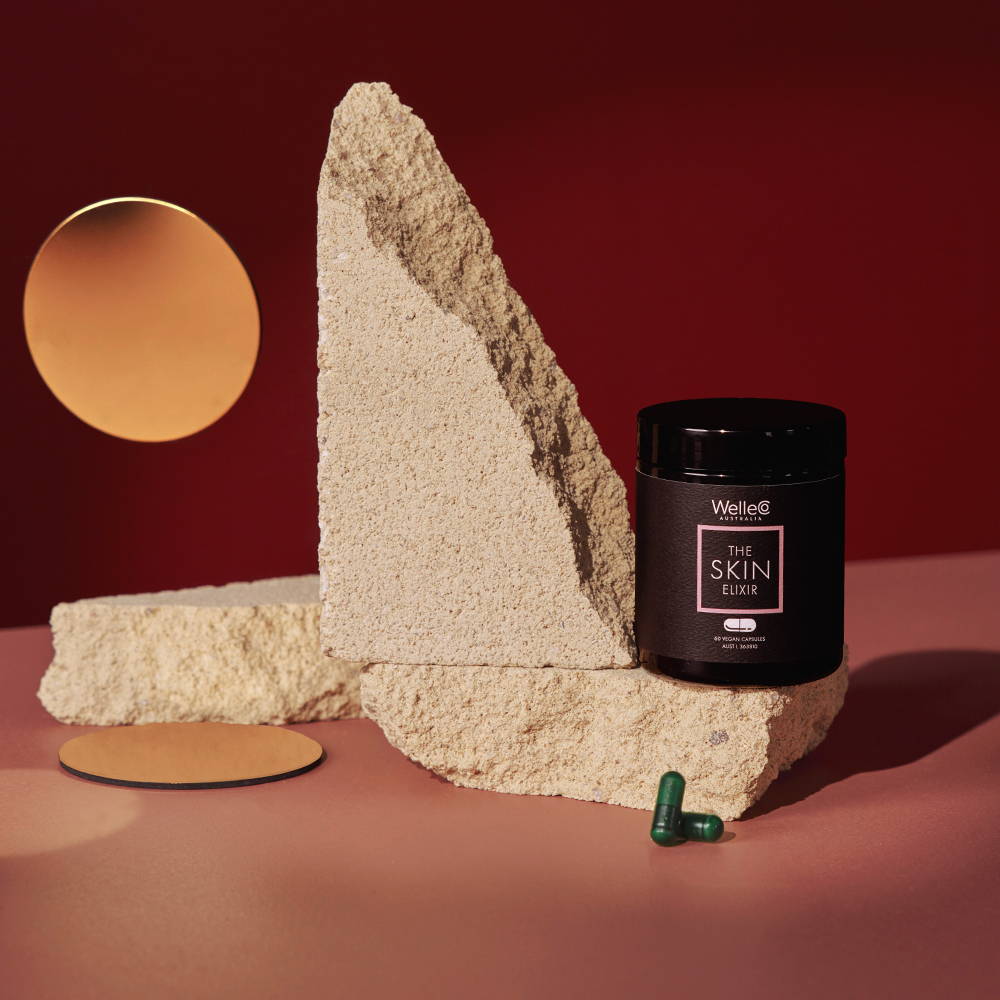 Gift WelleCo's new 2022 Holiday Gift Set, wrapped in quintessential Aussie scenes
Gift healthy, glowing skin this season with WelleCo's 2022 Holiday Gift Set. Presenting two practical people-pleasers in one, The Welle Travelled Set features our award-winning The Skin Elixir perfectly paired with a black, vegan, capsule-carrying Dosey.
This glow-getting set comes encased in WelleCo's exclusive 2022 holiday gift wrapping, paying homage to our brand's 365 heart and home, the iconic Australian coastline. This vibrant oceanic scene is further enhanced with orange tissue paper, for decoration that screams celebration.
"Every true-blue Aussie associates Christmas with the phenomenal natural spectacle inherent in our landscapes," says our founder, Elle Macpherson.
"Almost everywhere you turn in Australia there is a natural Broadway show unfolding, perfectly performed by Mother Nature herself. Inherent in each scene -- the pounding ocean, the red dirt roads or the iconic foliage synonymous with every Aussie postcard and bush poem – is our unique home. These landscapes are more than just the scene of annual celebrations and clichés – they forge the lasting memories we hold in our hearts."
A permanent winning fixture on the ingestible beauty award circuit, The Skin Elixir supports healthy, glowing skin, collagen formation, skin healing and regeneration, skin firmness and elasticity while reducing free radicals formed in the body. Consider two capsules daily the unequivocal way to glow; a skin-supporting ritual that is even further enhanced with the iconic all-in-one charms of The Super Elixir™.
"This year and every year, we tip our Akubra to this place we all call home with WelleCo's authentically Aussie, 2022 Holiday Gift Set," says Elle. "I know you'll love giving it and they'll love receiving it." Travel-friendly and adventure-ready, this set is a joy to give and get.
WelleCo's statement Caddy also makes for the perfect present, with all the convenience and charm of a lifelong keepsake. Our founder Elle Macpherson: "I love its practical beauty -- looks great on the counter where it reminds you to take it every day while it protects the ingredients. And you can Subscribe and Thrive—automatically receive your refill, right on time for uninterrupted wellness."
Gift our iconic WelleCo Caddy this holiday season and, in doing so, gift a life-long addition to your loved one's beauty-through-wellness journey. Moulded in gloss onyx UV-resistant glass, it presents a stylish, practical solution for living your beauty-through-wellness journey consciously and plastic-minimal. Start your wellness journey with the unfilled WelleCo Caddy, then simply refill with your favourite flavour of The Super Elixir™️ and reseal. For life. The WelleCo Caddy is available for The Super Elixir™, Nourishing Protein in Chocolate and Sleep Welle Calming Tea.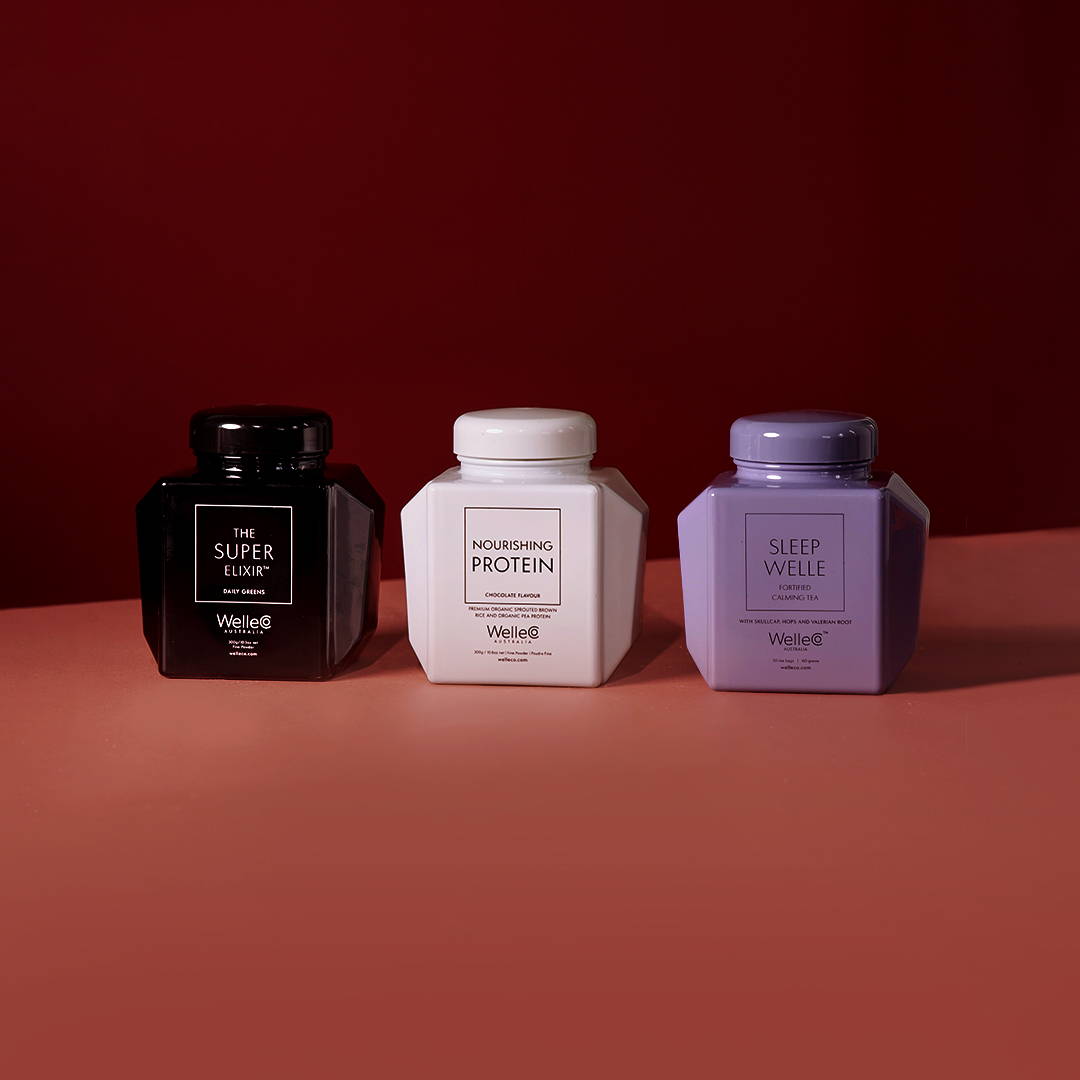 Each capsule contains a powerful blend of greens and skin-supporting ingredients, such as Niacinamide and Vitamin E for optimum skin health.
Formulated with:
+ Premium greens from barley grass, broccoli, and spinach to nourish skin from within.
+ Antioxidants such as pomegranate, acai, and green tea to help protect the skin against environmental aggressors and free radical damage.
+ Skin-supporting vitamins and minerals including vitamins C, B6 and E, plus nicotinamide, copper and zinc together support skin healing and regeneration, collagen formation, and maintain skin firmness and elasticity.
+ Acerola Cherry for a natural source of vitamin C to support bright, healthy skin.
+ Gut blend of turmeric, black pepper, papaya, methionine, and aloe to promote healthy digestion and support the gut-skin connection*.
+ Vegan capsules make The Skin Elixir super convenient and dissolve more easily than normal gelatine capsules, accelerating absorption of nutrients.
*Traditionally used in Western herbal medicine to promote healthy digestion.
+ UV-resistant glass to protect the potency of powerful active ingredients.
+ Includes an airtight seal to preserve the quality of your greens powder from the first teaspoon to the last.
+ Easily replenish with your Caddy from our 300g refill pouches, available in The Super Elixir™, Nourishing Protein and Sleep Welle Calming Tea.
+ An elegant visual reminder to take your daily dose of wellness.
+ Packaged in a luxury box making it the perfect present for your loved ones.
*Always read the label and follow the directions for use.