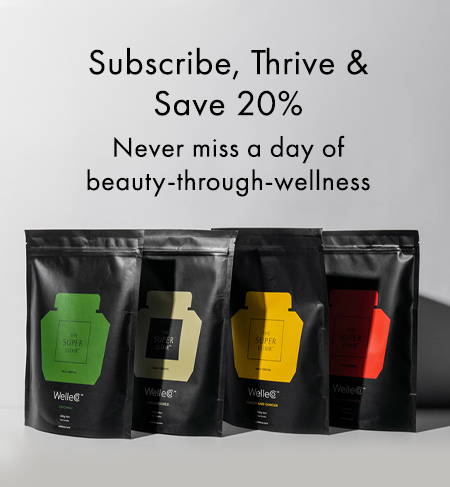 Select the 'Subscribe' option on your favourite WelleCo product pages. You'll enjoy free shipping* and save 20% not only on your first order, but every subsequent delivery after that.
Choose your preferred delivery frequency for an uninterrupted, easy wellness journey.
+ Pause, skip, swap, or cancel
Too much product? Not enough? Want to try something new? Personalise your subscription at any time to suit your needs.
You'll love your daily wellness routine and thrive, knowing that your next delivery is on its way.
+ Three Pack Subscription
Have three months' worth of your daily greens delivered directly to your door. Receive 25% off your ongoing orders, reduce your carbon footprint, and add variety to your routine with different flavours to rotate between each day.
Subscription makes it easier to be consistent and stay in routine, otherwise I'm fairly certain I'd be forgetting to order replacement packs in time.
I have found the best protein powder and won't change for anything! Subscribe and Thrive saves me time and I don't need to worry about running out.

All I can say is I love The Super Elixir™! I have subscribed to a monthly order as I feel this will be my routine moving forward.
Best greens powder on the market. The Super Elixir™ is a great product. I have this on subscription as I couldn't be without it.
Great service and delivery of my daily greens. Great to be updated when my subscription is due for delivery.
I love the subscription option because this way I don't run out and I get it 20% cheaper.
I absolutely love The Super Elixir™. I have now started a subscription to the Original flavour so I don't run out. I feel strong and focused, love the clean skin and how alert I feel.