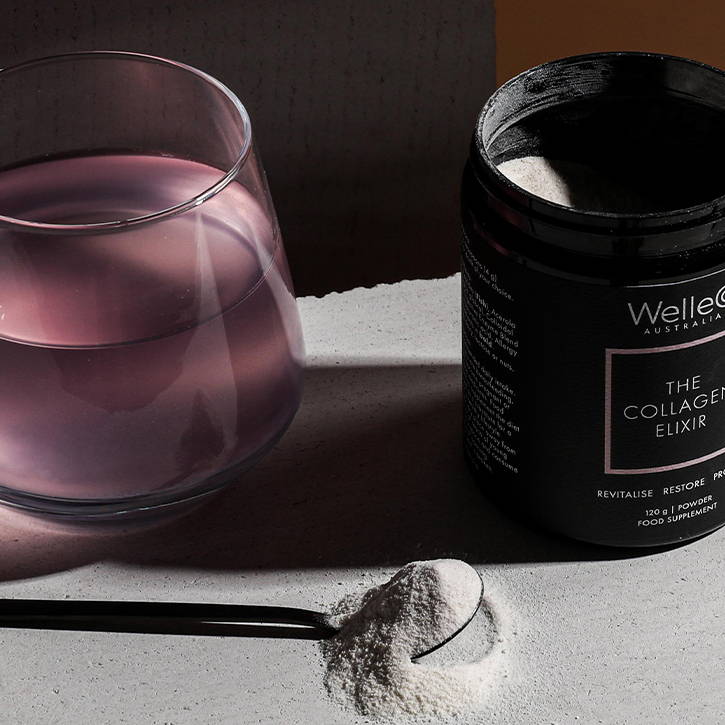 We go behind-the-scenes of our best-selling marine collagen.

As conscious consumers, we all have a responsibility (and a right) to know how our purchases influence our world. Here's the sustainable scoop on our best-selling bioavailable marine collagen-infused powder.
Since WelleCo's inception, our founder, Elle Macpherson has had oneheartfelt passion: for a better world, naturally. It's behind every one of our elixirs and defines everything we do. So,when we formulated The Collagen Elixir, it was essential every element was in line with Elle's original vision, and in turn, WelleCo's values.
Our elixirs are typically plant-based because we believe in the incredible potency that exists in nature. It is also this same clean approach that works for Elle in her own personal wellness journey. Collagen, however, is derived from animals, so vegan collagen does not and cannot exist. What is marketed as 'vegan collagen' is simply the precursors for collagen production, rather than the collagen itself. Vegan collagen is a misnomer. Consider it fact checked.
When debating whether to bring a collagen product to market, we were faced with the question, how do we do so in line with our values? Given we have just established it is not possible to produce plant-based collagen, we needed to mull over what that would mean with our founder and expert team.After careful consideration, we decided that if we could source cruelty-free, sustainable collagen, we would be comfortable adding it to our collection of elixirs.
When developing our formulation, it became obvious that marine collagen (from wild-caught fish) is the most efficacious and environmentally sustainable source. Marine collagen also produces less greenhouse gas emissions than itsbovine (mostly cow) counterparts, making this source the only real option for The Collagen Elixir.
Marine collagen ­­(type one collagen) isthe most abundant type in the body, linked to skin, hair, nail and bone health. Bovine collagen, however, contains type one and type three collagen, but bovine collagen isn't absorbed by the body as well as fish derived collagen. Marine collagen peptides are also easier for the body to digest and have higher bioavailability (meaning they are more active). In addition to the 3.5g of collagen peptides per serve, The Collagen Elixir also includes naturally derived vitamin C to boost collagen production, silica and digestive enzymes to additionally aid in the absorption of the collagen peptides.
What makes it sustainable?

Our collagen peptides come from a German company called Gelita who have a collection of bioactive collagen peptides known as Verisol®. Gelita, the market leader, have clocked over 140 years in the industry and are known not only for their research, but also their fastidious approach to minimising waste and maximising usage.
They only use by-products of the meat industry (the meat and bones of the fish are used as food or feed material, meaning they are not harvested for the sole purpose of collagen extraction)and they are the only company to have created scientifically formulated collagen peptides that are backed by multiple peer reviewed studies.
Verisol is transparent about their processes, as you can see in their2021 Sustainability Report, in which they detail everything from their commitment to animal welfare to their strict production processes. We love that for them, like it is us, sustainability is not just an on-trend pursuit.
The Collagen Elixir is formulated using 100% wild-caught, cold-water fish skin ––from Pacific cod and Alaska pollock ­–– that would otherwise be disposed of as food waste. Sourced from the North Pacific Ocean through a thoroughly sustainable and selective production process, our marine collagen is 100% premium in nature.  
Whether it's removing the plastic scoops from our pouches (with the goal to be fully scoopless in 2023), linking up with likeminded company's (our Dosey Holiday collab is case in point) or continually modifying our processes, we plan on doing all we can to continue to co-create a better world for the greater good, naturally. We hope you'll join us.