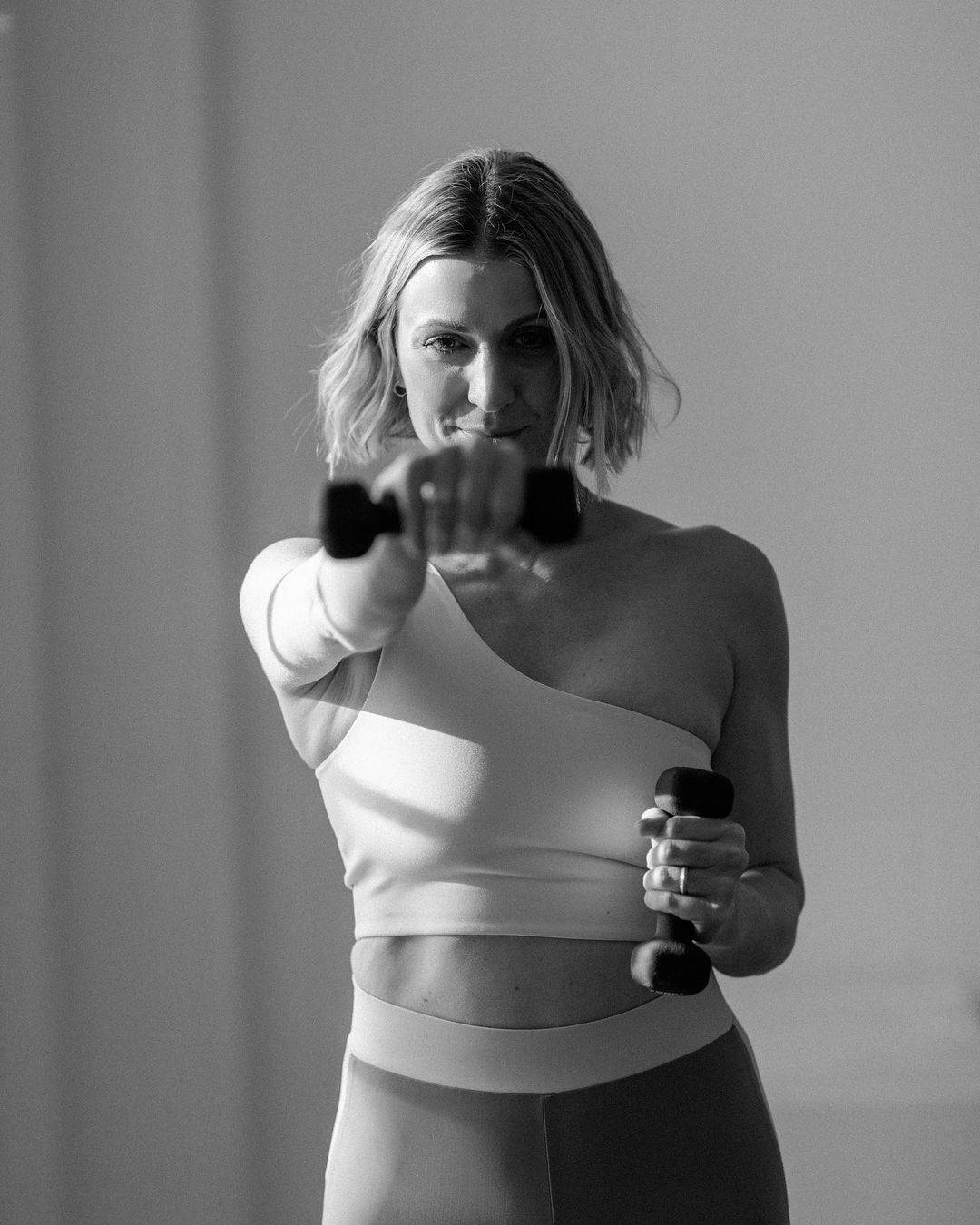 Barre Series founder, Catie Miller speaks to the inevitable benefits gained from a consistent wellness routine (and how to keep it up!)
 

When she's not doing regulars on Oprah Daily,Barre Series founder, Catie Miller can be found shaping the long, lean limbs of her growing client base out of her London studio. Energetic, motivated and funny, Catie is 13+ years of wellness nous personified. She found her (dancing) feet in ballet and it was that technical experience mixed with her holistic mindset that helped her create Barre Series. Think alow-impact, sweat-inducing, muscle sculpting, blend of ballet, Pilates and cardio for any skill level.
Catie will be joining us with four mini workouts for #welleeveryday.We talk to the dynamic founder and mother about the benefits that come from committing to a life more welle.
What inspired you to create Barre Series?
My background in dance inspired my love of movement, and after having my son ten years ago, it became my purpose. I moved to London from Arizona and began searching for a community, positive experiences and connections. Whilst pregnant, I walked into a barre class, looked around the room and realised there were so many abilities and bodies filling the space, but the one common factor was an incredible hunger for a feel-good workout! It was palpable, and at this point, I decided to pour my heart and soul into bringing something unique (with a little American flair, of course!) to London.
The Barre Series workout is balanced and dynamic, results-driven, and I can confidently say there is nothing else like it. The hidden gem behind this conviction is the community we have cultivated together. That's where our magic lies!
What are the benefits of a consistent routine?
Daily opportunities and habits we commit to matter. These include exercise, food, the company we keep and how we set healthy boundaries. Our mind is more powerful than we think, and changing neuropathways and reprogramming is possible and impactful! Aligning our behaviours and moving them into action allows for sustainable results and consistency within our routines. The benefits are endless!
Catie's Top Tips
1. Just show up!
One of my favourite quotes is, "Show up, show up, show up, and after a while, the muse shows up, too." Stepping outside our comfort zone and taking risks is an empowering place to be. Within this space, we create new learnings and growth, so the advice I most often give and try to remind myself constantly is that 'showing up' can be the most challenging part, but in doing so, we begin our practice and process of expansion.
2. Start where you're at
Connection and social health are at the forefront of everything we do. The last few years have taught us about inner strength and resilience and how leaning into our community deepens our interactions and enables us to project ourselves positively into the world. Being vulnerable and courageous and learning to navigate the forces of the universe builds an inner strength we all have within. Teaching in person and digitally has allowed us to reconnect and stay connected more than ever! Build from a place of happiness, where the little, often and consistent habits make significant, impactful change.
3. Go slow
Go slow and stay consistent. 'Listen to your body' is one of the first pieces of advice I remind my clients before every class. Moving to feel good is incredibly impactful, and when we nurture our bodies, minds and thoughts with positive interactions, everything aligns to meet this truth.
3. Remember your 'Why'
The transfer of energy within the Barre Series community is incredibly powerful. Messages from my clients and their 'Why' behind showing up are the driving force behind my movement mission. Seeing my clients within the studio or virtually in their living room has a profound ripple effect on us all. Yes, I'm bringing something to them, but they share so much with me. Our commitment to self and consistently reflecting on our 'Why' allows us to take ownership of how we choose to show up daily. This is empowering!
[QUICKFIRE]
Fave workout gear? Varley andLive the Process
Fave on-the-go breakfast?Banana
Your fave tea?Iced Green Tea
Fave inspo quote? "Show up, show up, show up, and after a while, the muse shows up, too." — Isabel Allende
Fave workout tune? All of the Lights by Rihanna
Your weaknesses? Single Shot Oat Milk Cappuccino
Your non-negotiable? Daily walks with the dogs
Fave supplement?The Super Elixir™
To celebrate living #WelleEveryday, Catie Miller has curated four workouts specifically for you - the Kickstart, Amplify, Sculpt and Reset Series. Join ourWelleCommunity Facebook group for access.